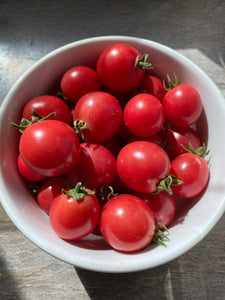 Whippersnapper Dwarf Cherry Tomato
This tiny dwarf tomato grows to only about one and a half feet high, making it the perfect plant for container gardening. It has a very short season, producing huge amounts very early and dying back before the first frost. The cherry tomatoes are pinkish-red oblong spheres. This plant has excellent disease resistance and can withstand somewhat dry conditions. Determinate and open-pollinated.
Grown organically with love and tenderness in the Bruce Peninsula, Ontario, Canada, in the summer of 2022. Germination tested. Minimum 30 seeds.