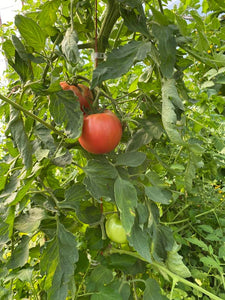 Cosmonaut Volkov Tomato
A nice, reliable beefsteak tomato named after the famous Russian astronaut. As it was bred for a Russian climate, it does well with a short season and cool temperatures. Tomatoes can grow to 4-5 inches in diameter. This variety is typically labeled as indeterminate, and it can grow to over 6 feet, but it also has bushy qualities and does not need aggressive pruning. Open-pollinated. 
Grown organically with love and tenderness in the Bruce Peninsula, Ontario, Canada, in the summer of 2022. Germination tested. Minimum 30 seeds.