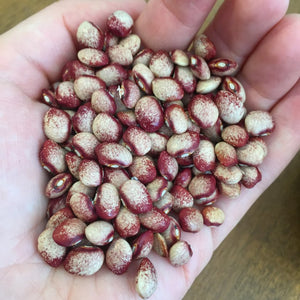 Seneca Cornstalk Bean
This climbing bean produces tasty red-and-beige speckled beans that offer homegrown nourishment all winter long. It is known as a "cutshort bean", meaning that as the bean pod matures, the beans lock against one another and can take on a square edge. As with most beans, it can also be harvested when small and tender and eaten like a green bean. Open pollinated.
In researching this bean, I found many conflicting histories. This bean is sometimes called the Mayflower bean, and it is thought by some that early colonists brought it to North America. Other sources, such as the Alliance of Native Seedkeepers, say it was originally grown by the Haudenosaunee and Iroquois people prior to colonization. Today, this bean is stewarded by many Indigenous seed keepers. 
Grown organically with love and tenderness in the Bruce Peninsula, Ontario, Canada, in the summer of 2022. Germination tested. Minimum 30 beans.